2019 Round 1: Sydney Motorsport Park
Actually written by Greg Muddle.
2019 NSW Motor Race Championship Round 1 
6 – 7th April, 2019
Sydney Motorsport Park
The 2019 NSW State Championship kicked off at Sydney Motorsport Park with the inaugural running of the David Choon Memorial Trophy, in honour of our late friend.  David won the first ever state series event under the FRCA banner, and the trophy race is a fitting memorial to a keen competitor.
With a valued prize, perfect conditions, and a new season ahead of us, it was disappointing that there wasn't a larger field of cars, but what the grid lacked in quantity was well made up with quality.  Class certainly won through: Graeme Holmes made a welcome return to the winners circle with three race victories; but he had to work hard most of the weekend.  In what augurs well for the 2019 season there were several drivers in the mix, making for close and exciting racing. With 2018 Champion Nathan Gotch, and the might of the AGI Sport team, not competing the full season in 2019 it presents a golden opportunity for a number of drivers to challenge for the championship.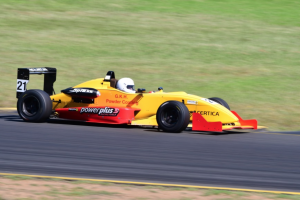 Round 1 winner: Graeme Holmes
Qualifying
1: Greg Muddle, Dallara Opel Spiess F399, 1:29.06
2. Aaron McClintock, Dallara Opel Spiess F301, 1:29.90
3. Graeme Holmes, Dallara Opel Spiess F304, 1:30.25
4 Ross McAlpine, Mygale Mercedes M11, 1:30.77
Warm and sunny conditions greeted the drivers, however the newly re-surfaced Sydney Motorsport Park had all the rubber washed away with a wet Friday and overnight storms, so the track produced some relatively slow times.
Greg Muddle made the best of the session by putting the old F399 on pole – a nice symmetry in a meeting where we were celebrating our maiden round winner that our maiden pole-sitter returned to the top of the timesheets, with what proved to be the fastest time of the weekend.  It should also be noted that this was Greg's 100th race start with FRCA – his pole position a fitting way to celebrate this significant milestone.
Aaron McClintock made it an 'All-01' front row, proving that you don't always need the latest kit to be competitive (note to those thinking about going wings 'n' slicks racing – there are some cheap 01's for sale at the moment, so this could be you).
Graeme Holmes wasn't far behind, making it a 1-2-3 for cars with Opel 'Holmes-power' – certainly the best engine around.  He was joined on the second-row by Ross McAlpine having a nudie run in the Mygale – an un-liveried car that is, not an un-apparelled driver.  At this stage of the weekend Ross was looking a threat.
Third row was fought out between the two Dallara '04s of Phil Morrow and Lawrence Katsidis, with Phil's Opel powered car shading the SYDNEY PHOTO BOOTH Renault powered car by the slightest of margins.  They were well clear of a slightly disappointed Ron Coath in the Dallara Mercedes F307. Ron having struggled throughout Friday practice with gearbox issues – being unable to get down to the sort of times which he and his car are capable of during this session.  Ron was joined on the 4throw by Glenn Lynch in the Dallara Fiat F397.
The field was rounded out by our newest competitor, Rob Rowe in the Genesis Offices Dallara Toyota F310. Rob was well short of valuable seat-time but had a respectable first outing and looked good in the car.  He was joined at the back of the field by Rob Sviderskas, exercising amazing patience in the wait for new pistons for his Dallara and in the meantime running the Elfin 622 Toyota – which makes very nice noise but it old enough to be a grand-father to some of the other cars in the field.
Race 1
1: Graeme Holmes,
2: Aaron McClintock
3: Phil Morrow
A late afternoon start but still in warm and sunny conditions which were perfect for the spectators. And good for racing too… except for the major engine detonation in the previous race that saw an oil trail from half way down the main straight through to the braking zone for turn 2!
When the lights went out Holmes got the jump from the second row, and although Muddle gave up position to McClintock off the line he was able to hold the line into turn 2 to retain second place. From there the three drivers put on 8 laps of pure entertainment, rarely being gapped by more than a few car lengths.  Muddle was under serious threat from McClintock, and they changes places several times.  Holmes wasn't getting much respite from this – when Muddle was in second he was challenging down the front straight; when it was McClintock's turn he was asking questions up the back straight.  But Holmes had all the answers.
Muddle had the best pace at that stage, but unfortunately the spectacle was interrupted on lap 8 when Muddle was pushing a little hard through turn 5 and ran out of talent – looping the car in front of McClintock who was able to take avoiding action but it cost him a bit of time on Holmes.  McClintock managed to narrow the gap lap by lap, but the race was perhaps a lap too short – Holmes holding a winning margin at the flag of less than a tenth of a second.
Behind the front cars Morrow made a good start to head McAlpine with Katsidis in close quarters for the first section of the race.  McAlpine was expecting the car to 'come on' after the first few laps, but unfortunately that never eventuated, later discovering some set-up issues with the rear ride-height which were something of a handicap to performance. So while Morrow pumped out consistent laps a gap opened to McAlpine, who fell into the clutches of Katsidis, the later making his move into 4thplace on lap 10.
Coath had a consistent but lonely run in 6thplace, with Rowe not far behind until he had a spin at turn 6 late in the race, eventually finishing a lap down.
Sviderskas parked the Elfin early, having issues with getting the car to rev to the required rate; and Lynch failed to get the car off the line (it's difficult in 3rdgear) and parked himself in the grandstand receiving refreshments from the crowd.
Race 2
1: Graeme Holmes,
2: Aaron McClintock
3: Greg Muddle
Sunday morning saw very similar conditions and we were ready for a repeat of the previous day's spectacle, albeit with Muddle having to come through the pack to do so.
Holmes had the best of the early stages, establishing a lead from McClintock, Katsidis (later penalised for a jump start) and Morrow.  The joker in the pack was Rowe who was up to 5th, with Coath following and Lynch giving up a place to Muddle mid-way through the lap.  McAlpine had experienced difficulties getting the car away from the dummy grid and consequently was forced to start rear of grid.
With Holmes opening a small gap on McClintock the action was further back.  Muddle and Coath swapped places twice between turns 14 and 15 on the first lap, before Muddle finally made the move stick on the entry to turn 1.  He then rounded up Rowe; followed by was a series of similar turn 1 moves to pass Katsidis and Morrow on the subsequent laps.  Coath was not being left behind however – it took a couple of laps but he too passed Rowe, and then Katsidis, before running down Morrow on lap 8.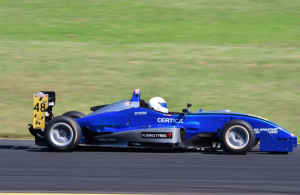 What a difference a day makes – Ron Coath in fine form on Sunday
At the front Holmes held a small but comfortable gap on McClintock all the way to the finish, with Muddle unable to make any headway in 3rd. Coath finished strongly in 4th, finding 3 seconds improvement in lap times over Saturday. Morrow was having clutch difficulties and slipped back, allowing Katsidis to move up to 5thin the closing stages. Lynch followed behind Morrow, benefitting from Rowe having had another mishap at turn 6.
Sviderskas finished a lap down, still struggling with the Elfin's rev-range, and McAlpine parked the non-performing Mygale in frustration half-way through the race.
Race 3
1: Graeme Holmes,
2: Ron Coath
3:Aaron McClintock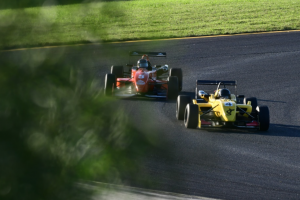 Rob Rowe being stalked by Lawrence Katsidis (Race 3)
Having won the first two races, Holmes was looking for a trifecta in the Trophy Race but McClintock and Muddle again loomed as serious threats.
Unfortunately that only lasted as far as the second corner:  McClintock having a spin mid-corner and Muddle, already with his hands full down the inside of the corner trying to regain position from Coath, looping his car in avoidance. By the time both of them re-joined their chances were gone. McClintock was able to recover to charge through the field to 3rd but Muddle unfortunately succumbed to a broken rear wing, which was pretty unlucky given there was no contact whatsoever in the incident.
While Holmes pedalled away somewhat surprised at his good fortune, there was plenty of action behind him. Coath had the best run though the turn 2 parking lot and established himself ahead of the fast-starting Rowe, with Morrow, Katsidis and Lynch following, and Muddle and McClintock tailing the field at the end of lap 1.
Rowe held Katsidis at bay for 5 laps, with Morrow in attendance but increasingly struggling with to get power down due to the continuing clutch issue. On lap 6 Katsidis passed Rowe, and McCintock also started his assault on the mid-field pack, passing Morrow.  He gained a further place on the following lap with Rowe having his now customary 'off' at turn 6.
Holmes cruised to the win with a big margin, with Coath holding onto 2ndby a couple of tenths over the fast finishing McClintock, who had rounded up Katsidis on the final lap. The consistent Lynch finished in 5th, ahead of Rowe and Morrow, who nursed his car to the line.  Muddle finished a weekend that had started with some promised with a black flag one lap from home having pitted earlier in the race.
So at the conclusion of round 1 Graeme Holmesis the inaugural winner of the David Choon Memorial Trophy, and holds the series lead going into round 2, which will be held at Wakefield Parkon the
25thand 26thof May– celebrating 25 years of racing at Wakefield Park.
For all the 2019 Championship points tables click here.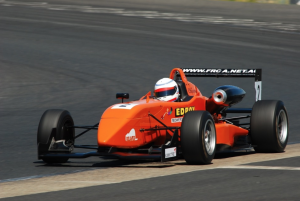 In memory of David Choon.
Actually written by Greg Muddle.
2018 NSW Motor Race Championship Round 2 
26 – 27th May, 2018
Wakefield Park
Wakefield Park was the venue for Formula Race Cars' second appearance of the season in the 2018 NSW State Championship, and Nathan Gotch in the AGI Sport Dallara Renault F307 was able to master the cool conditions to produce another maximum points performance and extend his championship lead. While Gotch was a class above the rest of the Championship field, it was his battle with the non-championship Dallara Honda F311 of Spike Goddard that put some heat in the weekend – a cracker of a race on Saturday afternoon going to Gotch, before Goddard cleaned up on Sunday, with the two trading quickest laps across the weekend.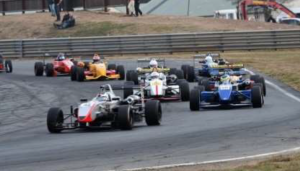 Goddard leading the pack in the Trophy Race
Qualifying

1: Nathan Gotch, Dallara Renault F307, 55.77
2: Spike Goddard, Dallara Honda F308, 58.04
3: Ross McAlpine, Mygale Mercedes M-11, 58.71; 4
Shane Wilson, Dallara Opel Spiess F305, 58.91 The mid-morning qualifying allowed the temperatures to creep up to around 12 degrees, but with the sun out and the track clean the conditions were right for some quick times provided you could find some grip. Gotch had the best of the early part of the session, from Goddard, Shane Wilson
(Wiltec Dallara Opel Spiess F305), Greg Muddle (Dallara Opel Spiess F399) and Ross McAlpine debuting his new ride, the ex-Harvest Mygale Mercedes M-11. Ten minutes in, and we all got the chance to cool down again courtesy of a red flag when Graeme Holmes (GKH Powdercoating Dallara Opel Spiess F304) found the Turn 2 sand trap, a result of continued brake problems.
With some confusing signals in pit-lane leading several competitors back to their carports and quitting the session at that point, those who were actually paying attention had an ideal opportunity to put in three quick laps after the re-start. Gotch's existing time was already good enough for pole, but he managed to lower that by a further 2 seconds, getting down to the 55.7's. McAlpine also benefited, diving down into the 58's and leap-frogging Wilson into third.

Behind Wilson, Muddle headed up Andrew Wlodek (Dallara Honda F307) and Lawrence Katsidis (SYDNEY PHOTO BOOTH Dallara Renault F304) who, having put his troubles of the last round behind him, was looking quick. Ron Coath (Dallara Mercedes F307), had brake troubles in the first part of the session, but managed to drive around that and pull out a respectable time in the closing part of the session, which put him ahead of Holmes on the grid.

Coath and Holmes just shaded the time of Phil Morrow (Dallara Opel Spiess F303), rounding out the Top 10 but looking quite capable of competing with the cars a couple of rows ahead as they were in a closely bunched group. Glenn Lynch (Eagle Transport Dallara F397 Fiat) was again doing a stellar job in the oldest Dallara in the field, qualifying ahead of Denis Lesslie (Tru Blue Trailers Dallara F302 Renault), who was still coming to terms with the new car, and Rob Sviderskas (Elfin 622) rounding out the field.

The lovely Elfin hadn't been on track for quite some time, and gave away quite a bit in sophistication and speed to the F3 cars, but it was great to have Rob there boosting the numbers – just a great pity that there weren't a few other older cars out there running around with the Elfin.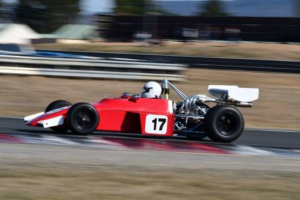 Simple, elegant, and those pipes are a work of art – Rob Sviderskas in the Elfin 623
Race 1
1: Nathan Gotch,
2: Spike Goddard
3: Shane Wilson
4: Ross McAlpine
5: Lawrence Katsidis
When the lights went out Goddard got the jump on Gotch and led the field away, with plenty of jockeying for position into Turn 2. Katsidis had a blinder and had his car into 5th outside Muddle as they exited the turn together, which saw Muddle getting on the throttle a little bit earlier than the cold tyres liked, with the result that he turned the car around in the middle of the following pack. Fortunately everyone managed to scatter.

Behind Goddard, Gotch was pressing hard, and they were both gapping the following pack of McAlpine, Wilson, Katsidis and Wlodek. Holmes' woes continued, dropping to the back of the pack, but Morrow's fortunes were better, and after a steady start he gained a place passing Coath on the second lap. Out front of the pack Goddard and Gotch were steadily dropping their times, into the low 57's by lap three and into the 56's a couple of laps later, but they were never more than a few tenths apart. Unfortunately those times put them behind lapped traffic, and at the end of lap 8 Gotch made the most of Goddard's misfortune, as Goddard was baulked in his run onto the main straight it allowed Gotch to run past into the lead, a position he was able to defend for the final lap to take victory.

Although the front two had sprinted away from the pack there was plenty of interest for 3rd, and while McAlpine was able to establish a bit of a gap early on Wilson was strong at the back end of the race, making the most of his opportunities to pass McAlpine on the last lap. Katsidis had chased the pair hard for most of the race, and was only a couple of seconds behind in 5th at the chequered flag. Wlodek had a fairly solitary race in 6th, but behind him Morrow, Coath and Lynch put on a good battle for the minor placings. Holmes couldn't recover to anything better than 10th.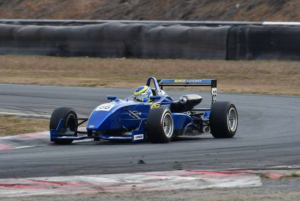 Millimetre perfect – no wonder he's quick! Nathan Gotch shows us how it's supposed to be done.
Race 2
1: Spike Goddard
2: Nathan Gotch
3: Shane Wilson
4: Andrew Wlodek
5: Greg Muddle
Sunday morning's conditions were again cool but clear, and all 13 cars lined up again for the second race. The first two rows were away clearly, with Goddard to the lead again ahead of Gotch, McAlpine and Wilson. Katsidis was away poorly, courtesy of a misfire that was to persist throughout the race, allowing the fast starting Coath to slingshot into 5th, ahead of Wlodek and Morrow. This trio were soon joined by two cars coming from further back – Holmes and Muddle, both eager to get somewhere nearer the back of Wilson's car.
However it was Wlodek that made the first move, getting ahead of Coath on lap 2, leaving Coath to defend against Holmes, with Muddle closing on Morrow. That move was made easier when Morrow looped it in turn 2 on lap three. Half a lap later the field was under safety car condition courtesy of McAlpine slowing to a halt – very unfortunate for him as the he was showing impressive cold-tyre pace. Not everyone saw the safety car sign, and there was a little bit of mayhem in the process, Holmes managing to make up a place unnoticed and Lynch managing to avoid the wrath of the officials by not quite completing a passing manoeuvre (even though it was recorded that way on the lap chart).
At the restart it was Goddard Gotch and Wilson out in front, with Wlodek defending doggedly against Holmes, Coath holding position in front of Muddle and Lynch defending against Katsidis still firing on three cylinders. Lesslie, Morrow and Sviderskas were somewhere else, not quite on the back of the safety car train at the restart. Goddard managed the race well leading all the way to the flag, but the eventual gap was less than half a second, and Gotch again managed to get down into the 55's to set the fastest lap. Wlodek managed to hold Holmes at bay for 5 laps, but was finally out-braked on the 11th of 12 laps to concede 4th place.
This should have seen Holmes comfortably home, except that on the final lap the car inexplicably drove off into the sand trap at the final corner on the last lap. Outside the car that might have looked like Graeme once again testing the limits of physics with his braking, but inside the cockpit it seemed more like a jammed throttle. Either way, Wlodek was gifted 4th place. Muddle crossed the line a second behind him, having passed Coath but not without some effort. A good braking duel into the Fish-hook gave Muddle the place, but Coath made a strong attempt to regain the place under brakes At Turn 10. His challenge persisted all the way through Turn 2 and on the run back up the hill before the position was truly decided.
This left Coath defending 6th from Lynch, which he managed to do, crossing the line a few tenths ahead. Katsidis held 8th from Morrow, recovering from his spin to finish 9th and the last car on the lead lap, with Lesslie improving his times by a few tenths in 10th and Sviderskas also making minor improvements in 11th.  
Race 3
1. Spike Goddard
2. Nathan Gotch
3. Shane Wilson
4. Greg Muddle
5. Graeme Holmes
The trophy race over 14 laps was in cooling conditions on Sunday afternoon with all 13 cars again lining up for the start. The early order was Goddard from Gotch, Wlodek jostling with Wilson for 3rd ahead of Muddle, with both Coath and Lynch – noted good starters – looking for an opportunity. Wilson settled the battle for 3rd early in the opening lap, before Muddle also seized the opportunity late under brakes at the end of the back straight moving into 4th. At the end of the first lap Goddard and Gotch had once again opened a sizeable lead, from Wilson, with a gap to Muddle, and a further gap to Wlodek, with Lynch on his tail.
Holmes was the best of the two rear-of-grid starters ahead of McAlpine, but no further progressed than 10h. While the front 4 cars were running steadily but with increasing gaps, there was plenty of action for 5th. Coath managed to take the place from Wlodek on lap 2, but Katsidis and Morrow were on a charge – both passing Lynch on lap 2, then both passing Wlodek on lap 3, before Katsidis took Coath for 5th on lap 4 with a deep dive under brakes at Turn 2. All this was frustrating the progress of Holmes and McAlpine who were still in 10th and 11th on lap 3, albeit having switched places.
McAlpine disposed of Lynch and Wlodek on the following lap with before and after moves at the Fish-hook, but Holmes wasn't quite as successful found the back of Wlodek's car on the next pass lap at Turn 2, leaving Wlodek with a damaged rear wing and Holmes in the gravel, eventually leading to the deployment of the safety car.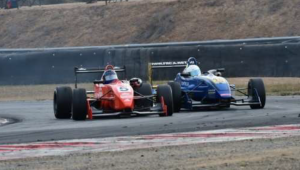 Lawrence Katsidis and a slight trace of tyre smoke got past Ron Coath in Race 3.
When the safety car departed there was a 6 lap sprint to the chequered flag, with Goddard and Gotch going all out as they had all weekend. Goddard opened up a secure margin – a second – but they were both charging hard to the flag, setting their fastest times on the last lap and Gotch setting a PB and the quickest time of the race. Wilson and Muddle were close for most of the remainder, but each time Muddle closed the gap Wilson found something a little bit extra, and he pulled a comfortable gap over the last two laps to finish a well-deserved 3rd.
Behind Muddle, McAlpine had found speed after the restart and steadily worked his way into 5th, courtesy of a series of late-braking moves at Turn 10, to finish ahead of Katsidis, with Coath holding out for 7th from the closely pursuing Morrow, and Lynch trailing in 9th. Lesslie finished two laps down but ahead of Wlodek, who despite a very non-aerodynamic set-up at the back of his car managed to circulate for points. Sviderskas unfortunately parked the Elfin with some (hopefully) precautionary concerns about the motor.
With Goddard not racing for points, Gotch was able to secure full points for the second round in a row.
Outright Points:
Nathan Gotch 75
Shane Wilson 63
Lawrence Katsidis 44
Andrew Wlodek 43
Ross McAlpine 41
Greg Muddle 41
Ron Coath 40
Phil Morrow 36
Glenn Lynch 35
Denis Lesslie 29;
Rob Sviderskas 21
Graeme Holmes 20
Class Based Points
Nathan Gotch 75
Lawrence Katsidis 44
Shane Wilson 63
Glenn Lynch 63
Phil Morrow 59
Greg Muddle 55
Andrew Wlodek 51
Denis Lesslie 51
Ron Coath 49
Ross McAlpine 43 
Rob Sviderskas 19
Graeme Holmes 29
Short Circuit
– A stellar debut for Ross McAlpine in 'that French car' (is it even a real F3 if it's not a Dallara?Surely it can't be), and the decision not to buy the mowing attachment with the rest of the spares was a good one.  Ross was really quick, really smooth and really, really happy!  About the only false move was inadvertently hitting the pit-lane speed limiter during Race 2, which brought that race to an early end, but everything else went smoothly.

Of course 'new car, new tricks', and it an attempt to keep prying eyes away from all the aero Ross was parked up on pit lane instead of roughing it with the uncouth masses in the carports.  A touch of l'arrogant frog? Certainly the injunction against any pictures of the car in this race report seems a step too far! (Actually we'd love to have some pictures of Ross' car but our photographer has decided he only likes Dallaras – when your photographer is named Riccardo Benvenuti you can see how that might happen).
– He may be the principal of Team Mr Knuckle Head – although he claims that someone
"changed his entry" – but take a look at the table above: Phil Morrow is looking strong in the race for the Class Championship – six starts, six finishes, nothing to do between races but contemplate how quick he might be if only his crew remembered to bring the computer cable and he could access the data.
– Wakefield Park: some people love it, some people hate it. And then there's a small group of people that the track seems to hate back. Which brings us to Graeme Holmes' disappointing weekend. Holmesy and helpers had a miserable time of it on Friday, having to replace a broken input shaft (the bumps on the back straight at Wakey can't help), but by Saturday morning the car was ready to go racing. At which point the mystery brake problem that has plagued the car in recent times put an early end to the qualifying session. Race 1 provided no solutions but at least the car made it all the way to the chequered flag, but not at the speed to which it is accustomed.
Several platefuls of very ordinary Chinese food and a troubled nights' sleep is not usually a great cure-all, but Sunday morning arrived fresh with promise. Graeme was quick to carve a way through the field before arriving at the rear of Andrew Wlodek's wide-track F307, but after a few laps even the riddle of how to pass this car was solved. It all looked to be going to plan until the car screamed past the braking markers at Turn 10 – courtesy of a small tool that had been left in the cockpit jamming the throttle. Several kilos of gravel later, Graeme was again ready to do battle with the track in the trophy race, only this time the solution to the riddle was not there, the door was not unlocked with a gentle tap, and the fairy tale ending vanished in a cloud of dust. The track has done this to Graeme before, but it may have finally broken him: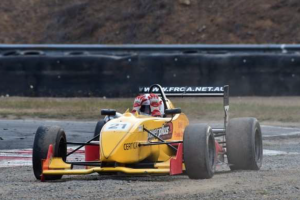 In the cockpit, no one can hear you scream.
Flashback 2013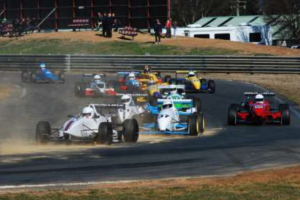 Sadly, only 4 of the cars in picture are still running with FRCA, a number of the drivers have upgraded to new equipment which is great, but what a pity we don't have some of these cars still going around. Near the back (obscured) is Lynchy, and 2013 is probably the last time he was not the leading Pre-99 car in a pack (I think he was a rear-of-grid starter that day, he may have been unusually late to the circuit, there's no other way he would be that far back). Garnet Patterson having set a sizzling pace in qualifying (56.14) cleared out that weekend to win the Trophy from the Darren Choon and Graeme Holmes (when the track loved him).
Actually written by Greg Muddle.
2018 NSW Motor Race Championship Round 1
17 & 18 March 2018
Sydney Motorsport Park
The 2018 NSW State Championship kicked off at Sydney Motorsport Park last weekend with F3 Premier Series contender Cameron Shields putting on a master class in the Gilmour Racing Dallara Mercedes F311.  While the conditions were hotter than hot, Cameron barely raised a sweat in winning all three races, despite doubling up in the Formula Ford Championship (which he also won!).
However with Cameron not contesting the State Championship, the winner over the weekend was returning 2016 Champion Nathan Gotch in the AGI Sport Dallara Renault F307, who picked up where he left off and completed the weekend with a maximum points haul.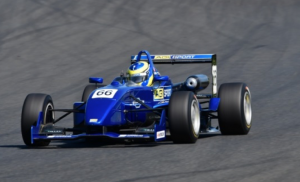 Nathan Gotch
Qualifying
1: Cameron Shields, Dallara Mercedes F311, 1:23.28
2. Nathan Gotch, Dallara Renault F307, 1:27.04
3. Spike Goddard, Dallara Honda F308, 1:27.39
4 Aaron McClintock, Dallara Opel Spiess F301, 1:27.41
The mid-morning qualifying session saw temperatures already in the mid-30's, and it was no surprise that most competitors produced their best times early in the session before engines and tyres got too hot.  In less than ideal conditions Cameron Shields was within 0.3 seconds of Calan Williams 'lap record' (for State events) in the same car last July.  Not only was it impressive, it was good enough by more than three seconds over his rivals.
Nathan Gotch managed to secure a front row spot, narrowly ahead of Spike Goddard who was back in Australia from his international exploits and having his first run in a F3 car for several years, but clearly settling into the groove despite a lack of testing.  Close on his heels the 2017 Champion Aaron McClintock was also in hot form, also qualifying in the 1:27's but with much older machinery.  Having seen the hot lap come up on the dash, Aaron parked the car knowing there was not too much more to be achieved.
The third row spots on the grid were filled by the usual suspects – Graeme Holmes (GKH Powdercoating Dallara Opel Spiess F304) and Greg Muddle (Dallara Opel Spiess F399) – who qualified ahead of a trio of F307's:  Shane Wilson (Wiltec Dallara Opel Spiess F307), Andrew Wlodek (Dallara Honda F307) and Ron Coath (Dallara Mercedes F307).  Shane Wilson's weekend appeared to be over on Friday afternoon when he was bumped off the circuit by a sports car in practice and the right rear of the car was heavily damaged, but an overnight delivery of parts from Queensland and a massive effort by his support crew saw the car repaired in time for qualifying.
Tenth place on the grid was the very familiar Eagle Transport Dallara Fiat F397 of Glenn Lynch, still motoring along rapidly with the longest continuous service engine in F3 history.
The remainder of the grid was made up of a cluster of Dallara F304's:  Phil Morrow having his first outing in the ex-Gilmour Spiess powered car and Denis Lesslie having his first outing in the True Blue Trailers ex-McAlpine Renault powered car, both using this meeting to get familiar with the extra potential of their new kit; ahead of Lawrence Katsidis in the SYDNEY PHOTO BOOTH Dallara Renault F304 having its first outing back from an engine rebuild, and Rob Sviderskas in the Opel Spiess powered car, both of whom had problems in qualifying that kept them from their best.
Race 1
1:Cameron Shields,
2: Spike Goddard,
3: Nathan Gotch,
4: Shane Wilson
5: Greg Muddle
Brake issues saw Graeme Holmes pull out on the dummy grid and left us with 13 cars lining up in hot conditions – 60+ degrees on the asphalt.
When the lights went out both Shields and Goddard got good jumps but Gotch bogged down slightly giving up 2ndplace.  Muddle also got a good jump (something that couldn't be said in any race report from 2017), keeping him in 4thwith Holmes missing and McClintock pulling off the track with what was to be a weekend-ending diff failure.  McClintock's departure was extremely disappointing as his practice times showed he was capable of mixing it with the later model cars ahead.
Shields had already opened a sizeable gap on the first lap, a pattern that was to continue throughout the whole race.  Likewise Goddard had a small gap on Gotch which he continued to stretch.  Muddle led Wilson, Wlodek and Lynch, and behind them the order followed the fortunes of the start:  Katsidis, who had repaired the problem in the gearbox that had relegated him to the back of the grid in qualifying made a good start, ahead of Morrow (who had jumped), Sviderskas, then Coath and Lesslie who had both stalled when the lights went out.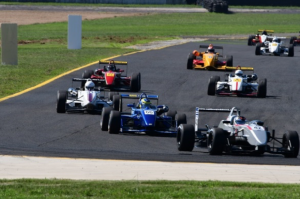 Goddard ahead of the pack into turn 2, Shields has already cleared out
Unfortunately, not much was happening in terms of racing – people were chasing hard but unable to close gaps.  Morrow was the exception, taking a place from Katsidis on lap 2 and reeling in Lynch on lap 4.  Coath had also made up some ground and passed Sviderskas on the same lap, but by that stage he had lost contact with the cars further up the field.  Katsidis, after a slow start, was putting in some quick times and making up ground on Morrow, only to have the car stop on lap 7 as it ran out of fuel.  Morrow was running strongly but was being haunted by Lynch, who wouldn't let him go.
Further up the field Muddle seemed to have a comfortable gap on Wilson, matching times lap after lap, but gave the spot away when he slowed with what was eventually found to be a loose air filter tube.
When the chequered flag came out on lap 13 there were large gaps between almost all car – Shields taking the flag ahead of Goddard, Gotch, Wilson, Muddle, Wlodek, Morrow (although with a 5 second penalty he was subsequently relegated a place), Lynch, Coath and a fast closing Sviderskas in 10th, with Lesslie rounding out the field.
Race 2
1:Cameron Shields
2: Spike Goddard
3: Nathan Gotch
4: Shane Wilson
5: Greg Muddle
Sunday morning saw no relief from the heat, if anything it was hotter, and 12 cars lined up for the first race.  Holmes had managed to sort his brake issue, but we were without McClintock (diff) and Sviderskas (oil seal).  Katsidis made a heroic effort to get to the dummy grid after replacing a flywheel, the second 'car apart' exercise of the weekend for the team.
The first two rows made good starts Wilson shading Gotch but settling into a familiar order of Shields, Goddard, Gotch, Wilson as they completed the first lap, a pattern that was to stay in place for the remainder of the race.
Muddle bogged down allowing the fast starting pair of Wlodek and Lynch to get ahead, and it wasn't until he slipstreamed past Wlodek into turn 2 on lap 2 that he managed to get back to his starting position. Behind Lynch, Morrow settled into 8th, ahead of Holmes who was still checking out his brakes, then Coath ,who was again, uncharacteristically, slow away from the line and Lesslie. Unfortunately Katsidis pulled out early with clutch issues.
Holmes was providing most of the entertainment as he progressed through the field, accounting for Morrow and Lynch on lap 2, Wlodek on lap 3, and then passing Muddle on lap 5. At that point there was still some hope of chasing down Wilson, but a spin at turn 2 on lap 8 put paid to that and gifted 5thplace back to Muddle.  Wlodek, Lynch and Coath followed, with Morrow dropping a place due to fatigue (and having to deal with an unstrapped helmet!) and Lesslie completing the field.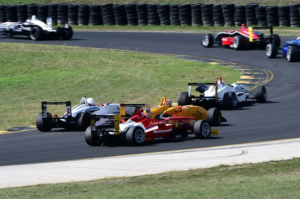 Where did all these cars come from? Race 3 and Shields finally sees some other cars.
Race 3
1: Cameron Shields
2: Spike Goddard
3: Nathan Gotch
4: Shane Wilson
5: Graeme Holmes
Having won the first two races by a convincing margin expectations were that Shields would do the same again in the final race.  Eventually he did, but he made it slightly more difficult by stalling when the lights went out and falling to the back of the field.  Despite this, he'd made it back to 5thby mid-way through lap 1, driving around the battling pair of Wlodek and Muddle between turns 4 and 5, and had found his way to the front by the end of lap 3, before driving to a 15 second win.
With Goddard jumping to the early lead, Gotch edged ahead of Wilson and the fast starting Holmes, but Muddle again gave up places to Wlodek and Lynch off the line. He managed to reclaim these after passing Wlodek under brakes into Turn 15, enabling him to set out after Holmes.
Lynch was close behind, having also managed to find a way past Wlodek on lap 2. Behind them Lesslie had made the best of the starts, to be ahead of Morrow, Coath and Katsidis, who unfortunately had no reward for all the effort on the clutch between races and eventually withdrew after 2 laps.
With Shields clearing out there were several battles emerging:  Gotch was unable to shake Wilson; Muddle was closing on Holmes; Lynch and Wlodek were inseparable; and Coath was chasing down Morrow and Lesslie, who traded places several times in the early laps.
Behind Shields, Goddard had a relatively easy race to claim second.  Gotch held out Wilson to claim third, but there was only a couple of seconds in it at the flag.  Muddle was taking a few tenths a lap from Holmes until he tried to go a little bit too deep into Turn 2 and took an excursion onto the grass, after which he had to settle for a comfortable 6th.  Lynch held Wlodek all the way to the flag, but there was only 7 hundredths of a second in it.  Coath claimed 9th, and Morrow held on to 10thahead of Lesslie by just over a tenth of a second.

Muddle used Race 3 to check out the sign the ARDC installed for Holmes at Turn 2
With the two young guns Shields and Goddard not racing for points, Gotch was left our clear winner for the weekend:
Outright points: 
Nathan Gotch  75
Shane Wilson  63
Greg Muddle  55
Andrew Wlodek  45
Glenn Lynch  43
Graeme Holmes  36
Ron Coath 36
Phil Morrow  35
Denis Lesslie  30
Rob Sviderskas  11 
Lawrence Katsidis  10
McClintock  5
Class Based points:
Nathan Gotch  75
Greg Muddle  71
Shane Wilson  63
Glenn Lynch  63
Phil Morrow  59
Andrew Wlodek  57
Ron Coath  51
Denis Lesslie  51
Graeme Holmes  46
Rob Sviderskas  19
Lawrence Katsidis  10
McClintock  5
Short Bursts:
"If I didn't have bad luck, I wouldn't have had any luck". A deeply philosophical Loz Katsidis contemplates the combined effects of clutch, flywheel, gearbox pinion, frustrating fuel and 12 months out of the seat, and looks forward to burning some hot laps at Wakefield next round, with some luck.
Despite all the conspiracy theories, 5 competitors survived targeted scrutineering without having their fuel bladders checked, and while the issue continues to hang there as a possible issue the early signs are encouraging: state scrutineers don't appear to have had any instruction to enforce the rule.
Greg Muddle spent a fair amount of time in the Clerk of Course office for having the loudest car in the category. Having tried the crossed wires at the end of the exhaust (they make 0.6 dB difference at Eastern Creek on a hot and humid day, for those who are interested) more radical surgery was required on Saturday evening. A large amount of stainless steel wool and some Kevin Lewis supervised re-engineering saw the car quietened sufficiently to compete on Sunday.
As usual there were plenty of instances of FRCA members helping out their fellow competitors in their hour of need, but for simple brilliance in the "see problem, solve problem" department it is impossible to go past the appearance of Icy Poles after the first race on Sunday morning. Thanks Katrina, that was soooo good!
As usual, there was plenty of talk about potential new cars – from Asia, from Italy, even from Victoria – and hopefully we'll see at least one of these emerge in the near future. If you're aware of anyone looking for a car then the ex-Robert Choon 01 is back on the market again in SA at a sensible price; and President Ross is aware of most of the other possibilities and might give you the tip (at least for the ones he's not contemplating for himself).
A big 'Thank You' from the Category Rep to all those competitors who booked garages as soon as entries opened, it was great having that settled so far in advance of the race meeting and not having anyone miss out.



A successful first outing for Denis Lesslie, and putting it away in one piece is always good too.
Trackback from your site.