Formula Race Cars Ready to Roll at Wakefield Park in 2017
It's been almost 6 month since their last outing and there are a number of super-keen drivers eager to put on a good show when Formula Race Cars hit the track for the first time in 2017 as part of the NSW Motor Race Championship race meeting at Wakefield Park on the weekend of 1 & 2 April.
For the uninitiated, Formula Race Cars is a category for 'wings and slicks' open-wheel racing cars, that are awesome to drive and easily the best bang for your buck in terms of performance at the state level. At the tight and twisty Wakefield Park they never fail to put on a great show.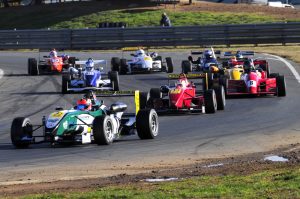 The 2017 season promises to be a cracker. With 2016 Outright Champion Nathan Gotch running only at selected rounds it opens up the possibility of a championship for a number of other competitors.
At Wakefield Park however they will need to deal with Dennie Rumble, a National Series regular having his first outing in the State Championship as Alpine Motorsport warm up for this year's F3 Premier Series. Dennie is being a little bit coy about which of the team's cars will be running – it might be the F307 Dallara that Tim Macrow drove to the F3 Premier Series title in 2016, or it might be a shakedown for their newly acquired 2nd car – either way Dennie is likely to be the pace-setter and the State Championship lap record of 56.3 seconds could be under threat if the new Hankook tyres are as grippy as everyone suggests.
While Rumble will start as favourite there are plenty of drivers in the field capable of keeping Rumble honest.  Graeme Holmes and Rod Brincat staged a great battle in the final round of 2016 at Sydney Motorsport Park in their very evenly matched Dallara F304's, and it's likely that they will take up where they left off.  Holmes ended with 3 wins that weekend – including two master classes in the rain – and has won more Formula Race Car races than anyone except Gotch.  Brincat has less experience in the F304 but has improved at each outing, so it will be interesting to see this battle develop. Any slip up from Rumble and they're both capable of knocking him off (figuratively not literally – fortunately the silly stuff is not a regular feature in Formula Race Cars).
As Wakefield is not such a high-aero circuit, the older Dallara F301's may also still be in the frame, as we saw in the corresponding round last year with Greg Muddle and Aaron McClintock putting on a great show fighting for the minor placings together with Andrew Wlodek in his Dallara F307.  Both Muddle and McClintock subsequently had season ending engine failures, but both are back with fresh donks and more 'holmespower' Graeme Holmes having done his magic on both engines, something that he might regret if they are battling for position.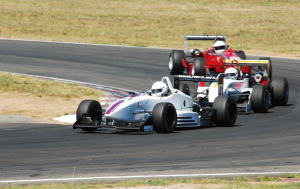 Wlodek shouldn't be discounted either.  Consistent performances in 2015 and 2016 have seen him finish 3rd and 2nd outright in the Championship over the last two years, and he'll be hopeful of rounding out the sequence in 2017 with a 1st. More importantly for the spectators, the Wlodek F307 was involved in epic contests almost every time it was on the track in 2016, so it's worth following for the action.  Also running a Dallara F307 is Ron Coath, who was the only man other than Gotch and Holmes to bag a race victory in 2016 and has reportedly been putting in some test miles at Wakefield Park so we can expect to see Ron closing in on the front runners.
Loz Katsidis in the SYDNEY PHOTO BOOTH Dallara F304 is another driver who was quick at Wakefield Park last year, before settling into some consistent performances to bag the class based Championship. The car has undergone some secret servicing in a last minute dash to Melbourne, we're not sure what go-fast parts have been installed but be assured he'll be ready to go hard in 2017. Rob Sviderskas will be back, also in a Dallara F304, having finished 2016 with some gremlins Rob will be looking for an improved performance in 2017.
Joining Graeme Holmes on the long march north are our two Mexican amigos – Rodrigo Anderson (Reynard 893) and Juan Boothman (Dallara F301). They don't often come to Wakefield Park and it might take a while for them to remember it (tip: turn left at the dummy grid and follow the black stuff) but they are both very experienced steerers and enjoy knocking off the younger blokes at every opportunity.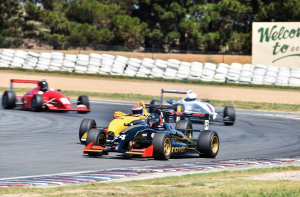 Anderson will have noted 'engine whisperer' Keith Sparks with him, so he should have the car to challenge for 'Class B' (pre-96 cars) honours, but he'll have his work cut out.  Perennial pace-setter Glenn Lynch's Dallara F397 may have over 10,000 documented miles on his engine (yes folks, he can give you a full account) but he'll be competitive.  I suspect the motor is heavily compensated by the gusto that Lynchy brings to the steering, and as a consequence he's always great to watch.
Kevin Lewis in the Toyota powered Dallara F396 will also be in the mix, as will Phil Morrow in the VW powered Reynard 923.  Phil had a difficult run with the car in 2016 – who'd have thought there were so many ways for oil to leave an engine? – but there were glimpses of what he's capable of and we're all eager to see more.  Rounding out the Class B cars is Denis Lesslie in the ex- Mika Hakkinen Ralt RT30 Honda.  We'll see Denis in his new Dallara F304 later in the season, but for now it's nice to see the very pretty Ralt back on the track.
Rodney Baker joins the field in 2017, having made a guest appearance in a Ralt RT30 Formula 2 car in last year's City of Goulburn Cup Rodney is stepping up to Formula 3 in the ex-Darren Choon F301, a welcome addition to the field and someone to watch once he had a couple of outings to get familiar with the car (the 'test program' largely consisting of a seat pouring and towing the car to Goulburn on the Friday morning of race weekend).
There's a few absent friends from this meeting, notably FRCA Presidenté Ross McAlpine who has gone from having a fleet to having no car in quick time, hopefully Ross' itchy feet will see him in new wheels soon.
There's also some exciting prospects around the corner.  We have the F3 Premier Series Boys (Australia's Fastest Racing Cars) joining us for two rounds later in the season.  And, after some absence from the ranks, there's the chance of not one but two awesome Formula 4000's joining us later in the season.
There's also a number of cars for sale if you'd like to join the action, with something to suit most budgets and performance levels.  Speak to any of the FRCA competitors at Wakefield Park to find out about racing with FRCA, is a move you won't regret.