Actually written by Greg Muddle.
2018 NSW Motor Race Championship Round 1
17 & 18 March 2018
Sydney Motorsport Park
The 2018 NSW State Championship kicked off at Sydney Motorsport Park last weekend with F3 Premier Series contender Cameron Shields putting on a master class in the Gilmour Racing Dallara Mercedes F311.  While the conditions were hotter than hot, Cameron barely raised a sweat in winning all three races, despite doubling up in the Formula Ford Championship (which he also won!).
However with Cameron not contesting the State Championship, the winner over the weekend was returning 2016 Champion Nathan Gotch in the AGI Sport Dallara Renault F307, who picked up where he left off and completed the weekend with a maximum points haul.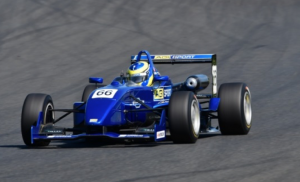 Nathan Gotch
Qualifying
1: Cameron Shields, Dallara Mercedes F311, 1:23.28
2. Nathan Gotch, Dallara Renault F307, 1:27.04
3. Spike Goddard, Dallara Honda F308, 1:27.39
4 Aaron McClintock, Dallara Opel Spiess F301, 1:27.41
The mid-morning qualifying session saw temperatures already in the mid-30's, and it was no surprise that most competitors produced their best times early in the session before engines and tyres got too hot.  In less than ideal conditions Cameron Shields was within 0.3 seconds of Calan Williams 'lap record' (for State events) in the same car last July.  Not only was it impressive, it was good enough by more than three seconds over his rivals.
Nathan Gotch managed to secure a front row spot, narrowly ahead of Spike Goddard who was back in Australia from his international exploits and having his first run in a F3 car for several years, but clearly settling into the groove despite a lack of testing.  Close on his heels the 2017 Champion Aaron McClintock was also in hot form, also qualifying in the 1:27's but with much older machinery.  Having seen the hot lap come up on the dash, Aaron parked the car knowing there was not too much more to be achieved.
The third row spots on the grid were filled by the usual suspects – Graeme Holmes (GKH Powdercoating Dallara Opel Spiess F304) and Greg Muddle (Dallara Opel Spiess F399) – who qualified ahead of a trio of F307's:  Shane Wilson (Wiltec Dallara Opel Spiess F307), Andrew Wlodek (Dallara Honda F307) and Ron Coath (Dallara Mercedes F307).  Shane Wilson's weekend appeared to be over on Friday afternoon when he was bumped off the circuit by a sports car in practice and the right rear of the car was heavily damaged, but an overnight delivery of parts from Queensland and a massive effort by his support crew saw the car repaired in time for qualifying.
Tenth place on the grid was the very familiar Eagle Transport Dallara Fiat F397 of Glenn Lynch, still motoring along rapidly with the longest continuous service engine in F3 history.
The remainder of the grid was made up of a cluster of Dallara F304's:  Phil Morrow having his first outing in the ex-Gilmour Spiess powered car and Denis Lesslie having his first outing in the True Blue Trailers ex-McAlpine Renault powered car, both using this meeting to get familiar with the extra potential of their new kit; ahead of Lawrence Katsidis in the SYDNEY PHOTO BOOTH Dallara Renault F304 having its first outing back from an engine rebuild, and Rob Sviderskas in the Opel Spiess powered car, both of whom had problems in qualifying that kept them from their best.
Race 1
1:Cameron Shields,
2: Spike Goddard,
3: Nathan Gotch,
4: Shane Wilson
5: Greg Muddle
Brake issues saw Graeme Holmes pull out on the dummy grid and left us with 13 cars lining up in hot conditions – 60+ degrees on the asphalt.
When the lights went out both Shields and Goddard got good jumps but Gotch bogged down slightly giving up 2ndplace.  Muddle also got a good jump (something that couldn't be said in any race report from 2017), keeping him in 4thwith Holmes missing and McClintock pulling off the track with what was to be a weekend-ending diff failure.  McClintock's departure was extremely disappointing as his practice times showed he was capable of mixing it with the later model cars ahead.
Shields had already opened a sizeable gap on the first lap, a pattern that was to continue throughout the whole race.  Likewise Goddard had a small gap on Gotch which he continued to stretch.  Muddle led Wilson, Wlodek and Lynch, and behind them the order followed the fortunes of the start:  Katsidis, who had repaired the problem in the gearbox that had relegated him to the back of the grid in qualifying made a good start, ahead of Morrow (who had jumped), Sviderskas, then Coath and Lesslie who had both stalled when the lights went out.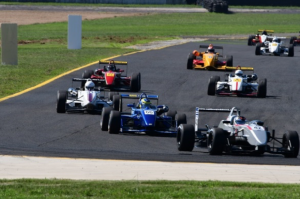 Goddard ahead of the pack into turn 2, Shields has already cleared out
Unfortunately, not much was happening in terms of racing – people were chasing hard but unable to close gaps.  Morrow was the exception, taking a place from Katsidis on lap 2 and reeling in Lynch on lap 4.  Coath had also made up some ground and passed Sviderskas on the same lap, but by that stage he had lost contact with the cars further up the field.  Katsidis, after a slow start, was putting in some quick times and making up ground on Morrow, only to have the car stop on lap 7 as it ran out of fuel.  Morrow was running strongly but was being haunted by Lynch, who wouldn't let him go.
Further up the field Muddle seemed to have a comfortable gap on Wilson, matching times lap after lap, but gave the spot away when he slowed with what was eventually found to be a loose air filter tube.
When the chequered flag came out on lap 13 there were large gaps between almost all car – Shields taking the flag ahead of Goddard, Gotch, Wilson, Muddle, Wlodek, Morrow (although with a 5 second penalty he was subsequently relegated a place), Lynch, Coath and a fast closing Sviderskas in 10th, with Lesslie rounding out the field.
Race 2
1:Cameron Shields
2: Spike Goddard
3: Nathan Gotch
4: Shane Wilson
5: Greg Muddle
Sunday morning saw no relief from the heat, if anything it was hotter, and 12 cars lined up for the first race.  Holmes had managed to sort his brake issue, but we were without McClintock (diff) and Sviderskas (oil seal).  Katsidis made a heroic effort to get to the dummy grid after replacing a flywheel, the second 'car apart' exercise of the weekend for the team.
The first two rows made good starts Wilson shading Gotch but settling into a familiar order of Shields, Goddard, Gotch, Wilson as they completed the first lap, a pattern that was to stay in place for the remainder of the race.
Muddle bogged down allowing the fast starting pair of Wlodek and Lynch to get ahead, and it wasn't until he slipstreamed past Wlodek into turn 2 on lap 2 that he managed to get back to his starting position. Behind Lynch, Morrow settled into 8th, ahead of Holmes who was still checking out his brakes, then Coath ,who was again, uncharacteristically, slow away from the line and Lesslie. Unfortunately Katsidis pulled out early with clutch issues.
Holmes was providing most of the entertainment as he progressed through the field, accounting for Morrow and Lynch on lap 2, Wlodek on lap 3, and then passing Muddle on lap 5. At that point there was still some hope of chasing down Wilson, but a spin at turn 2 on lap 8 put paid to that and gifted 5thplace back to Muddle.  Wlodek, Lynch and Coath followed, with Morrow dropping a place due to fatigue (and having to deal with an unstrapped helmet!) and Lesslie completing the field.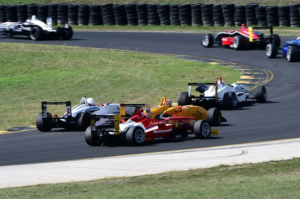 Where did all these cars come from? Race 3 and Shields finally sees some other cars.
Race 3
1: Cameron Shields
2: Spike Goddard
3: Nathan Gotch
4: Shane Wilson
5: Graeme Holmes
Having won the first two races by a convincing margin expectations were that Shields would do the same again in the final race.  Eventually he did, but he made it slightly more difficult by stalling when the lights went out and falling to the back of the field.  Despite this, he'd made it back to 5thby mid-way through lap 1, driving around the battling pair of Wlodek and Muddle between turns 4 and 5, and had found his way to the front by the end of lap 3, before driving to a 15 second win.
With Goddard jumping to the early lead, Gotch edged ahead of Wilson and the fast starting Holmes, but Muddle again gave up places to Wlodek and Lynch off the line. He managed to reclaim these after passing Wlodek under brakes into Turn 15, enabling him to set out after Holmes.
Lynch was close behind, having also managed to find a way past Wlodek on lap 2. Behind them Lesslie had made the best of the starts, to be ahead of Morrow, Coath and Katsidis, who unfortunately had no reward for all the effort on the clutch between races and eventually withdrew after 2 laps.
With Shields clearing out there were several battles emerging:  Gotch was unable to shake Wilson; Muddle was closing on Holmes; Lynch and Wlodek were inseparable; and Coath was chasing down Morrow and Lesslie, who traded places several times in the early laps.
Behind Shields, Goddard had a relatively easy race to claim second.  Gotch held out Wilson to claim third, but there was only a couple of seconds in it at the flag.  Muddle was taking a few tenths a lap from Holmes until he tried to go a little bit too deep into Turn 2 and took an excursion onto the grass, after which he had to settle for a comfortable 6th.  Lynch held Wlodek all the way to the flag, but there was only 7 hundredths of a second in it.  Coath claimed 9th, and Morrow held on to 10thahead of Lesslie by just over a tenth of a second.

Muddle used Race 3 to check out the sign the ARDC installed for Holmes at Turn 2
With the two young guns Shields and Goddard not racing for points, Gotch was left our clear winner for the weekend:
Outright points: 
Nathan Gotch  75
Shane Wilson  63
Greg Muddle  55
Andrew Wlodek  45
Glenn Lynch  43
Graeme Holmes  36
Ron Coath 36
Phil Morrow  35
Denis Lesslie  30
Rob Sviderskas  11 
Lawrence Katsidis  10
McClintock  5
Class Based points:
Nathan Gotch  75
Greg Muddle  71
Shane Wilson  63
Glenn Lynch  63
Phil Morrow  59
Andrew Wlodek  57
Ron Coath  51
Denis Lesslie  51
Graeme Holmes  46
Rob Sviderskas  19
Lawrence Katsidis  10
McClintock  5
Short Bursts:
"If I didn't have bad luck, I wouldn't have had any luck". A deeply philosophical Loz Katsidis contemplates the combined effects of clutch, flywheel, gearbox pinion, frustrating fuel and 12 months out of the seat, and looks forward to burning some hot laps at Wakefield next round, with some luck.
Despite all the conspiracy theories, 5 competitors survived targeted scrutineering without having their fuel bladders checked, and while the issue continues to hang there as a possible issue the early signs are encouraging: state scrutineers don't appear to have had any instruction to enforce the rule.
Greg Muddle spent a fair amount of time in the Clerk of Course office for having the loudest car in the category. Having tried the crossed wires at the end of the exhaust (they make 0.6 dB difference at Eastern Creek on a hot and humid day, for those who are interested) more radical surgery was required on Saturday evening. A large amount of stainless steel wool and some Kevin Lewis supervised re-engineering saw the car quietened sufficiently to compete on Sunday.
As usual there were plenty of instances of FRCA members helping out their fellow competitors in their hour of need, but for simple brilliance in the "see problem, solve problem" department it is impossible to go past the appearance of Icy Poles after the first race on Sunday morning. Thanks Katrina, that was soooo good!
As usual, there was plenty of talk about potential new cars – from Asia, from Italy, even from Victoria – and hopefully we'll see at least one of these emerge in the near future. If you're aware of anyone looking for a car then the ex-Robert Choon 01 is back on the market again in SA at a sensible price; and President Ross is aware of most of the other possibilities and might give you the tip (at least for the ones he's not contemplating for himself).
A big 'Thank You' from the Category Rep to all those competitors who booked garages as soon as entries opened, it was great having that settled so far in advance of the race meeting and not having anyone miss out.



A successful first outing for Denis Lesslie, and putting it away in one piece is always good too.